Drive results with the most powerful marketing, sales, and management platform developed for those working with events.
Coopax connects event planners and space owners in a practical and fast way.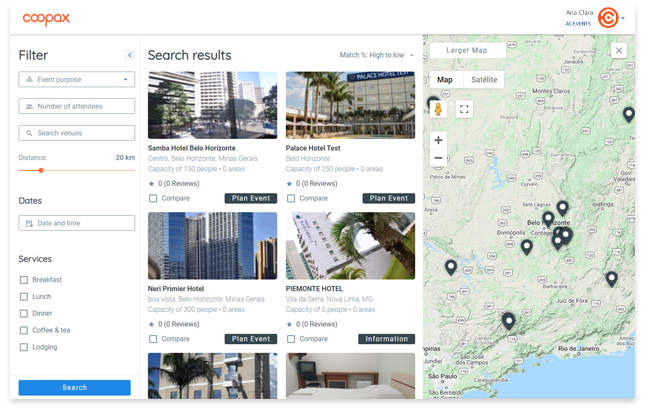 Your job is to close more deals and expand your brand.
Sales managers spend precious time preparing quotes for an event. You have to obtain the necessary information, prepare and send the proposal, in addition to managing the return and negotiating with the client. Build your sales machine by automating your sales with Coopax's real-time quote functionality.
Our technological platform that increases the exposure of your venue, automates your sales and event management.
Highlight your space and expand your results.
Customize your unique page with information, photos and features of your venue to be searchable by thousands of event planners.

Be found
The parameterization of your venue enables you to be found in advanced searches carried out by hundreds of users.
Search by distance, availability, location, accessibility, architecture, services and more.

Create your sales machine
Create your own sales machine to attract and close more events for your space.
Instant quote allows you to streamline your sales process by providing quick sales responses, organizing operations, flows and integrating the communications.

Manage sales opportunities
Automate sales opportunity management and improve team effectiveness by setting timeouts for responding to requests.
Get notified of new opportunities, set time limits for responding to requests, and keep track of deals.

Optimize communication with customers
Optimize your communication process with your customer, monitoring each request.
You can dynamically and automatically accept, reject and/or adjust your budget. It's the end of endless emails and miscommunications.

Access event planning
Access the complete event planning and deliver an excellent service.
Event planners using the Coopax planning tool share detailed information with event space managers, broadening their understanding of needs and avoiding mistakes.
Achieve substantial reduction in time to prepare proposals, manage sales leads and close more deals.
ROI - Return on investment
You have three ways to benefit from using the Coopax technology platform.
Management tool for your internal team
Request for quotation and reservations on the platform and on its website
As Coopax's marketing and sales platform
Use Coopax to promote, manage and close more business opportunities quickly and efficiently.
Your job is to delight your customers, creating memorable experiences at events.
62% of event planners consider the choice of location the most important to the success of the event. So they spend a lot of time finding the perfect space.
Coopax is a technological platform that will make your daily life easier, automating repetitive tasks and optimizing your workflows.
Find the ideal space for your event.
Coopax makes this search faster and more effective through advanced search filters, including location, availability, space features, services and more.

Automate your event planning
Automation of event production brings more efficiency and provides gains in productivity, scalability and cost reduction.
Coopax provides an event planning tool integrated to the space quotation process.

Get real-time quotes
Speed up the space quote process for your event.
Real-time quotation allows you to streamline your event production process by quickly obtaining the average price of your event in a given event space.

Contract your venue online
Simplify venue contraction for your event.
You can carry out your budget and hiring of your venue online in a secure, dynamic and automated way. No more email quotes.

Optimize communication
Enhance your event experience with effective communication.
Through Coopax, you receive notifications related to your event. You can follow all interactions with the chosen space.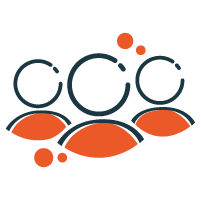 Join the Coopax community
Come exchange experiences and learn from other event planners.
Coopax provides free technical content and many other benefits in its community. Be part of it.
Get substantial time savings to find the perfect event space.
ROI - Return on investment
Event planners have access to the full functionality of the Coopax platform at no cost.
Use Coopax to promote, manage and close more opportunities quickly and efficiently.